Doug Mishkin is a Partner at, and co-chair of the Emplyment Law Practice Group of, the Washington-based Law firm of Patton Boggs LLP.  He is also a noted singer/songwriter, and a long-time friend of the Religious Action Center.
Carolyn Goodman, a remarkable civil rights advocate, passed away Friday at age 91.  The New York Times ran a terrific obituary (available here) on Saturday.  The Religious Action Center was honored to recognize Dr. Goodman's work – so much of which was inspired by the murder of her son, Andrew and two other civil rights workers in 1964 – at our annual Martin Luther King Civil Rights Leadership Awards last year.  I presented the award to Dr. Goodman, and my remarks follow:
Presentation of the Religious Action Center's
Martin Luther King Civil Rights Leadership Award to Caroylyn Goodman. 
Embassy of Israel.
Janauary 12, 2006
I met Carolyn Goodman in 1989 at the Carter Center in Atlanta at a reunion of blacks and Jews who had worked together in the civil rights movement.  I was sitting at a dinner table, doing my anti-social best to mind my own business, when a woman on the other side of the table asked: "What brings you here?" I said "David Saperstein has asked me to sing a few songs."  I knew the polite thing to do was to ask: "And how do you come to be here?"  She said:  "My son was killed in Mississippi 25 years ago."  I looked at her name tag, saw the name Goodman.  In an instant, I was 10 years old again, seeing the TVnews footage of the search for and eventual finding of Goodman, Schwerner and Chaney.  Then I thought to myself, what an interesting footnote to history, to meet the mother of one of the three civil rights workers, as they would always be known.
Well, footnote, nothing.    Ten minutes later, I understood how 20-year-old Andy Goodman could have had the courage, the commitment, the temerity to sign up for Freedom Summer in Mississippi in 1964.  Ten minutes later, I realized I was talking to a woman who had taught her son the values of justice the only way those values can be taught – by living them.  I couldn't stop listening to her and I couldn't stop looking at her.  Ten minutes later I was in love.
Dr. Carolyn Goodman is a clinical psychologist by trade.  As a psychologist, she broke new ground years ago by establishing a clinical program at the Bronx Psychiatric Center for low income, minority families, a program known as PACE – Parent and Child Education.  She is a fellow of the American Psychological Association.
Her distinguished professional accomplishments are but one piece of an extraordinary life.  Through the doors of her home in that magical planet-within New York City known as the Upper West Side passed the actors, the writers, the musicians, the intellectuals and especially the blacklisted.  In the Goodman household, civil rights was the dinnertime discussion, it was an article of faith, it was the vision of noted family friends like the novelist Howard Fast and the actor Zero Mostel.  Civil rights came with the Goodman territory, and thus, as Carolyn has said many times, there was no way to stop Andy Goodman when he announced he was going to Mississippi the summer of 1964.
But we honor Carolyn Goodman today not because of any focus on the past, but because she has always stayed focused on fighting for the future of our country.  In the time I've known her – remember, she was just a kid of 74 when I met her in 1989 – she's been dedicated to promoting youth activism.  Not by talking about it.  By actively engaging young people.  In 1989, she brought together the Chaney, Schwerner and Goodman families to honor the memory of the three boys and of all those who worked, and died, in the cause of civil rights.  She organized the Freedom Caravan, which went from Philadelphia, Mississippi to NYC.  In 1994, she organized Freedom Summer 1994, dedicated to training of youth organizers.  That led to the creation of a film documentary, Hidden Heroes, that takes head-on the cynical stereotype of uninterested youths and demolishes it with its portraits of real young people who are active inheritors of Dr. King's legacy.
Her latest project is another film documentary entitled Neshoba.  The project began in April 2004 with the purpose of ensuring that the 40th anniversary of the killings of Goodman, Schwerner & Chaney would not pass unnoticed.  In the middle of producing the film, in no small part because of Carolyn's efforts, a task force succeeded in persuading Mississippi officials to prosecute Edgar Ray Killen, the Klan leader who coordinated the killings and who had never gone to jail – a prosecution that has put Killen in jail. 
Carolyn is a legend.  Not in the sense of being a celebrity whose name and face are known to all.  In a more meaningful sense.  She is a legend to those who know her, to those who hear her, to those who are privileged to work with her, to those who've been touched by her – to thousands upon thousands of people.    We are awe-struck – by your energy, because your day starts before and ends after ours does; by your commitment, because you never flinch from your vision of justice; and truthfully, most of all,  by your unfailing warmth, optimism and love even in the face of cruel personal loss.
But I swear to you my friend that those of us who never actually knew your son Andy feel him inside us.  We feel him because you have put him there through your work for social justice.  We feel your love of him in your love of our country.  And this country feels him, too.  It feels him when African Americans vote and hold elective office, all over the country and in Mississippi.  And it feels him when we celebrate the fact that our country now honors with a national holiday the man who inspired him, who inspired you, who inspired us all.
I have to think Dr. King himself would be honored to count you among those formally recognized as a part of his legacy.  You are, indeed, a sweet survivor.  Ladies and gentlemen, I'm proud to introduce Dr. Carolyn Goodman.
Related Posts
Image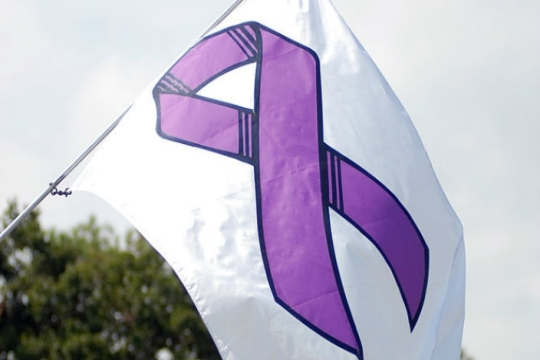 October is Domestic Violence Awareness Month (DVAM) in the U.S. Each of us likely knows someone, either in our Jewish community or our secular communities, who has been impacted by or is a survivor of domestic violence.
Image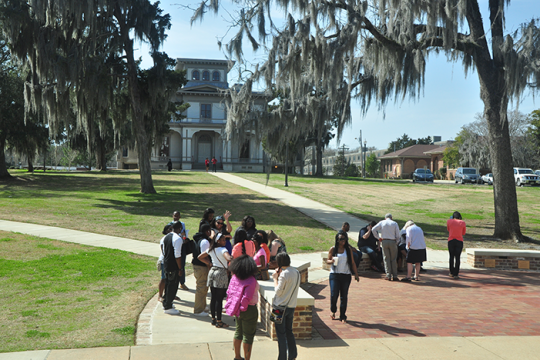 As a graduate of both Tougaloo College and Jackson State University, the recent bomb threats to Historically Black Colleges and Universities (HBCUs) are personal to me. Since January 2022, over a dozen HBCUs have received bomb threats; several of those threats were received on the first day of Black history month. The continuous attacks on institutions of higher learning; places of worship and individual attacks are a direct threat to our everyday existence.
Image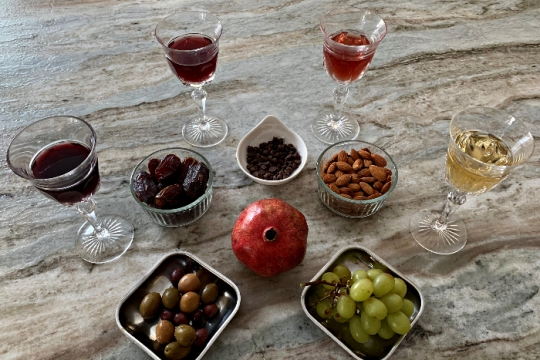 As I thought about what would be involved if we did our own Tu BiShvat seder, it seemed interesting and fun. Tasting lots of fruits? Marking a time to appreciate, mindfully and respectfully, trees and the earth? Drinking wines and grape juices? Yes, please.