Image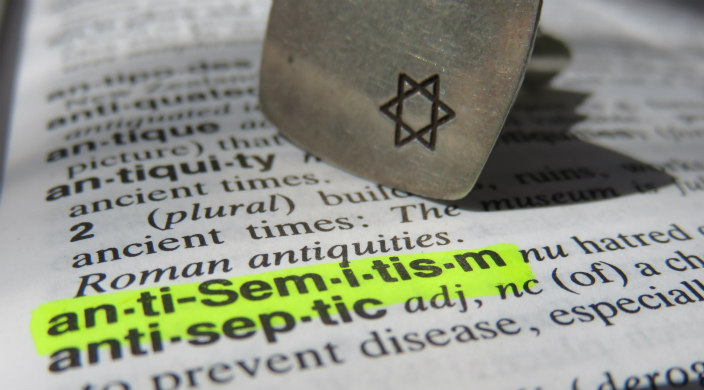 Sunday is a strange day here in Jerusalem. In Israel, it's "Yom Rishon," the first day of the week and we all go to work and to school. On Sunday, after the rest Shabbat affords us, we resume our everydayness – even as the rest of the world is still in weekend mode.
For those who do a lot of correspondence or business with North America, as I do, Sunday is a relatively quiet day. Nothing much ever happens on Sunday, giving me a chance to catch up on email and run a lot of errands.
Two weeks ago on Sunday I went to the market, the dry cleaner, picked up cat food, ran to the pharmacy, and got ready for the last few rehearsals before the J-town Playhouse opens a production of the award-winning musical "Cabaret" here in Jerusalem. In the show, I portray the elderly Jewish fruit vendor, Herr Schulz. He's the only character in the musical identified as Jewish, and is in deep denial about the impending military storm and Holocaust that will soon engulf the European continent.
Driving to the theatre, I reviewed my lines, my songs, and mentally went through some of my choreography. Arriving a few minutes early, I parked and listened to American news. My Sunday carefreeness evaporated as I heard the news of the shooting at the Tree of Life synagogue in Pittsburgh.
It was incomprehensible to me: A shooting in a synagogue. Eleven wounded. No, 11 dead. During Shabbat morning services. "All Jews must die," the killer said as he shot his victims.
A shooting. In a synagogue. On Shabbat.
As the cast assembled for rehearsal, we felt the heaviness, the unease, the anger, the fear, the disbelief. A shooting. In a synagogue. On Shabbat.
We tacitly understood that now, more than ever, our production of "Cabaret" was not only a musical fable of a far-away time and place, but also a mirror, reflecting part of our own milieu in which incitement leads to violence, demagogues are emergent, and anti-Semitism is real.
"Cabaret" for all its remarkable and tuneful song and dance is an exceedingly dark and foreboding work in which the characters experience the rise of Nazism, the collapse of friendships and intimate relationships, and destruction of life as they previously knew it.
That evening we rehearsed the ending of the second act. Realizing that some of his non-German neighbors in Berlin are leaving the city and heading to America to escape the tightening snare of the Nazis and the ever-growing violence toward Jews, Herr Schulz shakes his head in disbelief: "This will pass, I promise you," he says. "Because I understand the Germans. After all, what am I? A German."
His denial, coupled with intense optimism, are the formula for disaster and loss.
A moment later, I, as Herr Schulz, look directly at the audience and say: "What we all really need is mazel [luck]…that's what we all need."
As I write this, several weeks after the Pittsburgh shooting and the 80th anniversary of Kristallnacht, it seems that Herr Schulz got it wrong. He really believes this hatred will disappear. Like many of us now, and so many German Jews in the 1930s, he can't truly comprehend anti-Semitism. Survival when facing such hate needs more than mazel or luck. Indeed, what we truly need are fortitude, hope, and responsible politicians and officials who lead through hope not fear and through unity not isolation.
After an extremely emotional rehearsal, I drove home through the mostly empty streets of Jerusalem. As gentle rain began to fall, I turned off the radio and streamed from Spotify the 1998 revival recording of "Cabaret:"
What good is sitting alone in your room?
Come hear the music play
Life is a cabaret, old chum
Come to the cabaret
No, life isn't always a cabaret. It can be difficult, dangerous, and filled with unexpected twists and turns. On that damp Jerusalem evening, though, exhausted from a long, draining rehearsal, I realized, there isn't any place I'd rather be.
Related Posts
Image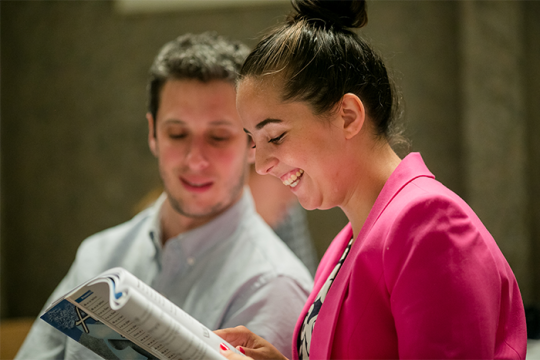 Lifelong learning, however, can be easier said than done. For many, as they enter adulthood, with its competing demands and obligations, setting aside time for learning – and especially for Jewish learning – can be challenging indeed.
Image
At 10, Jeff Erlanger appeared on "Mister Rogers' Neighborhood" in his wheelchair. I recently asked Jeff's parents about how they raised such a competent and loving son.
Image
When I became rabbi of Monmouth Reform Temple in Tinton Falls, NJ, I quickly discovered that some people in our community thought we were a church. Mail was addressed to "Monmouth Reformed Temple," and letters were addressed "Dear Pastor."