Image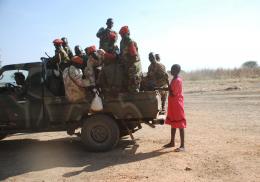 The semblance of hope that precipitated out of talks between Sudanese and South Sudanese governments on March 13 has dissolved after a
clash between the two countries' armies and a cancellation of the summit
during which the president of each country planed to sign a formal agreement regarding borders and citizenship. On March 13, leaders met in Addis Ababa, Ethiopia, to discuss various unresolved issues since
the secession of South Sudan from Sudan
. Negotiators on behalf of President Omar al-Bashir of Sudan and President Salva Kiir Mayardit of South Sudan
made agreements
regarding freedom of movement, residence, and economic engagement for individuals between the two states in accordance with each country's laws, in addition to an agreement establishing the mechanisms to enforce the demarcation of the border. They had planned to sign the agreements at a summit in Juba, the capital of South Sudan, on Tuesday, but unexpectedly cancelled the summit after a
confrontation between the Sudanese Armed Forces and the Sudan People's Liberation Army (South Sudan) near the oil-rich town of Heglig
.
The cancellation of the summit also postpones a resolution of the
oil dispute
between the two countries. Most Sudanese oil is produced in the southern state, and most of it is exported through the northern state, which has access to ports on the Red Sea. Both countries, however, have been unable to resolve the division of revenues, so South Sudan turned off the taps this January, affecting the economies of both nations. Even China, a buyer from both countries, has weighed in on the issue, urging both nations to settle the dispute. As the armed forces of both nations continue to augment their presence along the border and beyond, it is critical that the leaders come together to finalize the agreements made in Addis Ababa before further violence ensues. In the meantime, the United States
National Security Council announced
on Tuesday that it has authorized up to $26 million from the Emergency Refugee and Migration Assistance Fund to aid the more than 140,000 refugees who have fled the Sudanese border states of Blue Nile and South Kordofan due to ongoing conflict. Tuesday's announcement is a welcome step, but the U.S. government can do more: The actions outlined in the recently introduced Sudan Peace, Security, and Accountability Act (H.R. 4169) will help Sudan and South Sudan become prosperous, stable and cooperative neighbors.  
Tell your representative to help end human rights violations in Sudan by co-sponsoring and voting for the bill
, and
join actor George Clooney, Rabbi David Saperstein, and other prominent social justice leaders
in the
fight for peace
in Sudan and South Sudan.