Image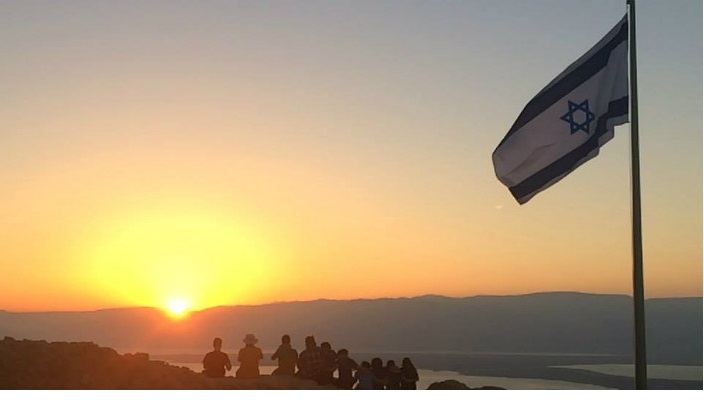 As solemn memory turned to glorious celebration, I stood on the balcony of my friend's apartment in Rehavia, a neighborhood in Jerusalem. We listened to the partiers on the streets around us and craned our necks to spot the fireworks in the distance.
It was Yom HaAtzmaut, Israel's birthday, a day of loud music and barbeque parties. We had just mourned those who fell in war and terrorist attacks on Yom HaZikaron, and as night deepened, our tears, and the country's tears, were turning into joy. We collectively moved from loss to festivity.
It was also the very end of my first year of rabbinical school at Hebrew Union College-Jewish Institute of Religion in Jerusalem. After a year of difficult learning, my friends and I were ready for some revelry.
We joined the party below us. Draped in Israeli flags, sporting beads and inflatable hammers, we raced down King George Street to Ben Yehuda Street. The roads were full of people dressed in blue and white, children spraying silly string at anyone they could reach, and live music. There were young people, old people, families, friends, and strangers interacting with one another.
Everyone was ecstatic. Everyone felt at home. In that moment, there were no denominational lines, no prejudices, no differences between us.
It didn't matter who was Reform, who was traditional, who was secular, who was left- or right-wing. Though we had different beliefs about Judaism, politics, and the actions of the government, we were all just so glad that Israel existed. For that one day, we all came together – no questions asked – to enjoy the fun, the fireworks, and the raucous celebration.
Today, years later, as we celebrate another Yom HaAtzmaut, it seems that sense of connection across factions in the Jewish State is still a dream. Equality and pluralism remain aspirational – for all streams of Judaism and for all residents of the Holy Land. Our collective ritual narrative still moves from loss to festivity, yet ours is not the only narrative. Even while we celebrate, other residents of the land live in fear, anger, and hopelessness.
Our Jewish values remind us that each person was created in God's image, b'tzelem elohim. However, the country's leadership continues to favor specific populations, and renege on promises made to those outside the ruling coalition. The leaders don't appear to recognize that what makes the Holy Land holy are the diverse peoples who dwell within it. It is strong not only because one type of person lives there, but because diverse populations contribute their unique stories, backgrounds, and cultures to the nation. In this moment, many people who feel marginalized, let down, and alienated are struggling to continue to love Israel fervently.
The Prayer for the State of Israel in the newest Reform siddur (prayer book) calls it "reishit tz'michat gu'lateinu," the first sign of our redemption. Yom HaAtzmaut is a moment of unity. It provides a space for truly celebrating Am Yisrael, the Jewish people, the entire Jewish people. Reform and Orthodox, left- or right-wing, traditional or secular, we are all part of the tapestry celebrated on Israel's birthday. Yet, the festivities last only 24 hours.
If only we could carry the spirit of celebration and oneness into Israeli society and culture throughout all the days of the year. If only each citizen of the Jewish State could be viewed through the same lens of equality with which we viewed each other during our revelry in the street that night just a few years ago. If only, by Israel's next birthday, every citizen could feel comfortable and at peace enough to call it home. Then, we will truly be redeemed.