To celebrate the 100th anniversary of women's suffrage in the United States, Rabbi Carole Balin, Ph.D., is sharing eight chapters of an "alternative Book of Numbers" designed to tell the stories of Jewish women who combined civic engagement with Jewish values in a 40-year struggle "in the wilderness" to pass the 19th Amendment.​ Learn more in her introductory essay, a commentary on Parashat B'midbar.
Chapter 6: Like Her Namesake, Miriam Michelson in the Feminist Wilderness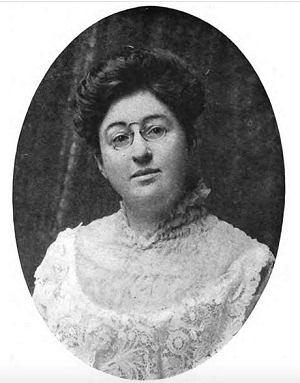 In 1905, The Washington Post dubbed suffragist Miriam Michelson a "California Jewess who has succeeded with her pen."
Not only did she write articles on gender equality for San Francisco's major dailies, as well as popular magazines like The Saturday Evening Post, but she was a best-selling author. Her 1912 feminist utopian novella, precociously-titled The Superwoman, about an imagined matriarchal society in which women wield power over men, preceded DC Comics' character of the same name by 31 years (not to mention Naomi Alderman's novel The Power, with a similar premise, which won the prestigious Baileys Women's Prize for Fiction in 2017).
Yet like her biblical namesake, whose death is mentioned in this week's joint Torah portion Parashat Chukat-Balak, Michelson's contributions have been largely eclipsed by those of her brothers. She appears, at most, as a footnote in the biographies of her male siblings.
Historians proudly acknowledge that her oldest brother, physicist Albert A. Michelson, known for his work on measuring the speed of light, was the first American to receive the Nobel Prize in a field of science, in 1907. But Miriam didn't receive even a shout-out in the 1962 TV episode of Bonanza, known as "Look to the Stars," which features Albert's confrontation with antisemitism as a schoolboy genius. Historians also recognize her youngest brother, journalist Charles Michelson, as the first publicity director of the Democratic National Committee under FDR.
In fact, Miriam Michelson was largely forgotten until last year, when scholar Lori Harrison-Kahan unearthed and re-printed her writings in time for the centennial anniversary of the Nineteenth Amendment. 
The truth is that biblical Miriam receives far more attention than any of the handful of female characters in the Book of Numbers, which contains two censuses tallying up 603,500 men. (Women make up .0001 percent of the total Israelites mentioned in the book). Even her death is inscribed into the narrative, while most biblical figures do not merit an obituary. Readers of Parashat Chukat are told about the timing, the place, and the fact that Miriam was buried: "The Israelites arrived in a body at the wilderness of Zin on the first new moon, and the people stayed at Kadesh. Miriam died there and was buried there." (Num. 20:1) 
Though the Bible is silent about the communal response, later commentators describe how Miriam's death plunged all into deep mourning. Moses apparently wept for six hours straight, oblivious to the fact that his people lacked water – a consequence, according to Rashi, of Miriam's death (whose name has embedded within it the Hebrew word for "water," mayim). When she dies, the well runs dry. That Miriam is buried in Kadesh – which translates into English as "sacred" – is further proof of her sanctity in Jewish memory.
As the modern commentator Carol Ochs sums up, "Miriam's gift was to…help women recognize and claim their…sacred place." (The Torah: A Women's Commentary, p. 934). Like her biblical namesake, Miriam Michelson influenced how women would come to recognize and claim their place in early-twentieth century America.
Born in the mining town of Murphy's Camp in the foothills of the Sierra Nevada mountains of California in 1870, Miriam was the seventh of eight children of East European Jewish immigrants, Samuel and Rosalie (Przylubska) Michelson. When the family moved to Virginia City, NV, her parents became merchants, proffering supplies to miners in the aftermath of the Gold Rush.
Michelson launched a career in journalism, where she broke gender barriers by covering crime and politics rather than stories on the so-called "Women's Page." She also became a commercial success as a fiction writer, supporting herself by publishing short stories in a range of mass circulation magazines. Like her biblical counterpart, she never relied on a man and chose not to marry or have children. 
By 1895, Michelson had become an outspoken advocate for suffrage, writing and speaking on the topic, especially to the young women of her generation. On June 30, 1911, she addressed a crowd of more than 300 at the annual meeting of the College Equal Suffrage League in San Francisco, established a decade earlier to encourage female students to engage in political activism.
In a speech titled "The Reproach of Unladylike Behavior," she traced, with irony, the practices of "real ladyhood" to "crippled feet in China" and "disfigured bodies in America," which "hobble our brains." But a new day has dawned, she argued. "Now it is most ladylike to stand up, face things as they are, and accept them like a man; to be an athlete is possible, if not a trained nurse or physician."
Four months later, on October 10, 1911, voters in California passed Proposition 4, making the state the sixth in the union to grant suffrage to women. 
According to her biographer, Lori Harrison-Kahan, Michelson's Jewish ancestry "definitely shaped the way in which she regularly gave voice to the underrepresented in society, including women fighting for the vote."
"When you look at her career," Lori Harrison-Kahan added, "there's no question being Jewish shaped how she saw the world."
Who will be the next Miriam to be recorded for the ages? How will our voices resonate into the next century to assure that all will have an opportunity to be counted?
What Does it Mean to be a Miriam Today?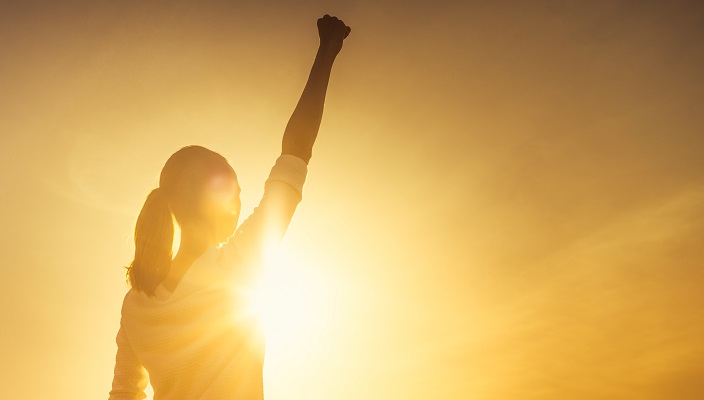 This week, Rabbi Balin teaches us about Miriam Michelson, the suffragist, and biblical Miriam, one of the few major female characters in the Bible, despite the fact that even she is treated with some ambivalence.  
As Rabbi Balin points out, there are few primary, complex female characters in the Bible, let alone in the Book of Numbers. At times, Miriam is placed on par with Moses and Aaron, two of the most totemic leaders in the biblical narrative. Micah 6:4 reads, "In fact, I [God] brought you up from the land of Egypt, I redeemed you from the house of bondage, And I sent before you Moses, Miriam and Aaron." And yet, Miriam is banished also banished from the Israelite community (Numbers 12:14).
The important questions Rabbi Balin raises, using both biblical Miriam and Miriam Michelson as examples, is deeply relevant to us today: Who are the Miriams – literally and figuratively – of our history? What Miriams lived amazing lives, only to have the patriarchy erase them from history? And what does it mean to be a Miriam today?
Let's take a look at a few key moments of Miriam's leadership to help us better understand what it means to be a Miriam.
Miriams watch and learn.
We first meet Miriam as she watches baby Moses float down the Nile (Exodus 2:4). It's a reminder that leadership isn't always active talking or directing. It's also quiet, collecting observations, letting people show us who they really are. Only then are we able to step into the fray with intention, as Miriam does later when she offers to bring her mother to nurse Moses.
Miriams take the time to bring joy into the world.
Perhaps Miriam's most famous act is celebrating the Israelites' freedom by leading all the female Israelites in dancing with her timbrels (Exodus 15:20). The Israelites were making their way through the Sea of Reeds, the Egyptian army only just vanquished.
Miriam could have led a hurried march to create more distance from Egypt, inspired the Israelites with words, or just sunk down into the desert sand to rest. Instead, she brought music, spirituality and joy, making the moment not about the Egyptians at all but about the Israelites and their freedom and emerging identity.
Miriams speak truth to power, even when there are consequences.
Miriam and Aaron painfully challenged Moses' status as a prophet saying, "Has the Eternal spoken only through Moses? Has [God] not spoken through us as well?" (Numbers 12:2) Despite the fact that Miriam is famously called a prophetess in Exodus 15:20, God responds to Miriam's perceived insubordinance by giving Miriam leprosy, which forces her away from the Israelites' camp.
As contemporary biblical scholar Phyllis Trible writes in the Jewish Women's Archive, "[Miriam] understands leadership to embrace diverse voices, female and male. But the price of speaking out is severe. Though God rebukes both Miriam and Aaron, the deity punishes only her."
Miriams remind us that even inspiring heroines are imperfect.
It's important to remember the challenging context for Miriam's speaking out against Moses's singular authority. Miriam is concerned that Moses has married a Cushite woman, rather than, presumably, an Israelite. The text doesn't give additional detail (Numbers 12:1).
This context is not only distressing to our own eyes; over the years, commentators like Rashi have tried to explain it away. When we study Miriam, we need to remember all of her, not just the parts that are easy to admire.
Miriams implore us to question the narrative.
Miriam is banished while she heals from leprosy. In fact, this is the last mention of Miriam until she dies in this week's parashah.  Here we can learn from the story the Bible doesn't tell. We don't know what happens to Miriam after her illness, and her absence is felt throughout the eight intervening chapters.
What powerful things might she have been doing in all that time?  So often female voices are silenced, especially after they have spoken out in subversive and agitational ways.