If I asked you to imagine a scientist in your mind's eye, what image would emerge? A balding man in a white lab coat? A woman wearing thick glasses? A millennial glued to a laptop?
A 1970s-era study found that when asked to draw a picture of a scientist, boys and girls depicted males 99.4 percent of the time. The pervasive and subconscious images of scientists as male that begin to surface at an early age may be one explanation why girls entered STEM fields — science, technology, engineering, and math — at lower rates than boys. 
What happens, though, when we change up the narrative by broadly altering cultural expectations around gender and move women to the center of the story? The numbers speak for themselves.
When stories of female scientists' achievements became part of elementary school curricula, studies showed that students' perceptions of who belongs in the field shifted dramatically. Over a period of 50 years, girls in particular began to draw female scientists more often. So while only 1.2 percent of girls depicted scientists as female in the original study, the figure rose to 33 percent in 1985 and then to 58 percent in 2016.
Numbers speak for themselves in this week's Torah portion as well — lots of them. And, as we will see, they add up to more than their sum.
Census-taking rolls like a sand dune through Parashat B'midbar, which is also the Hebrew name for the fourth book of the Torah that we begin reading this week, known as the Book of Numbers in English. More than once in Numbers, God issues an order to count heads. The first order comes in the second year after the Exodus when the motley crew of freed slaves attempts to consolidate itself into a community as it begins its journey in the wilderness (Num. 1:1-46). The second order occurs 38 years later as the newest generation of Israelites prepares to enter the Promised Land (Num. 26:1-51). Each census is thoroughgoing and recorded with accountant-like precision. Forty-six verses of the opening chapter of Parashat B'midbar detail the process and results of the tally. Once the divine commandment to "take a census of the whole Israelite community" is heard, census-takers are appointed and the numbers start rolling in for each of the tribes:
Reuben - Elizur, son of Shedeur, counts 46,500 men
Simeon - Shelumiel, son of Zurishaddai, counts 59,300 men
Judah - Nahshon, son of Amminadab, counts 74,600 men
Issachar - Nethanel, son of Zuar, counts 54,400 men
Zebulun - Eliab, son of Helon, counts 57,400 men
Ephraim - Elishama, son of Ammihud, counts 40,500 men
Manasseh - Gamaliel, son of Pedahzur, counts 32,200 men
Benjamin - Abidan, son of Gideoni, counts 35,400 men
Dan - Ahiezer, son of Ammishaddai, counts 62,700 men
Asher - Pagiel, son of Ochran, counts 41,500 men
Gad - Eliasaph, son of Deuel, counts 45,650 men
Naphtali - Ahira, son of Enan, of the tribe counts 53,400 men
All told, 603,550 Israelites are counted. 
While the instruction is to take a census of the whole community — and in certain instances, "Israelites" (B'nei Yisrael) can be construed as an inclusive term for men and women — this is decidedly not how it goes down here. The text makes abundantly clear that the census includes only men of at least 20 years of age who are deemed capable of bearing arms (Num. 1:2-3). Because they will be counted on to defend against danger during the perilous trek, it is they who count. 
But how do we account for the numbers that the census conceals — the roughly 600,000 women, 2 million children, 100,000 elderly men, and 90,000 men with physical challenges who live alongside the "603,550 Israelites"? 
In its original context, the census is a mere pragmatic tool designed to calculate the potential military might of the community. The numerical results seem to offer mere data points to assess risk. 
But numbers speak for themselves. 
When you consider that 603,550 men are counted in a book of 36 chapters that acknowledges fewer than ten women, you begin to understand that who does the recording and who is recorded are not incidental matters. Factor into the equation the cumulative effect of hearing these numbers repeated year in and year out to ever-new generations of Jews during the cyclical reading of the Torah. The impact of hearing stories that feature male protagonists almost exclusively is exponential, incalculable, epic. 
What would happen were we to change up the narrative by broadly altering cultural expectations around gender and move women to the center of the story?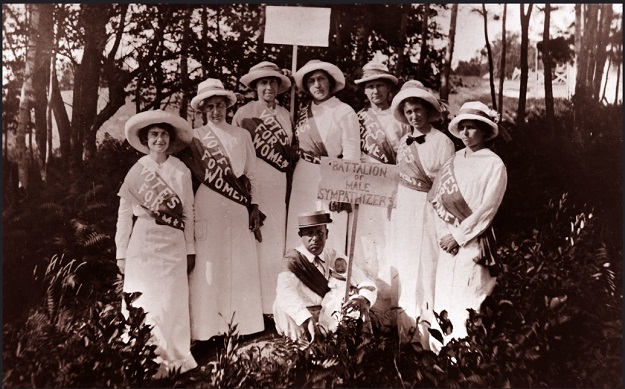 Photo: Courtesy of the State Archives of the State of North Carolina
To honor the uncounted numbers in the fourth book of the Torah and to celebrate the 100th anniversary of women's suffrage in the United States this year, I will roll out eight "chapters" of an alternative "Book of Numbers" over the next eight weeks. This effort launches during American Jewish Heritage Month, as well as the year 2020, as we gear up for a national election and a census in the United States. (Incidentally, the suffragists' efforts to pass the 19th Amendment were encumbered by the Spanish flu, not unlike the COVID-19 pandemic in our own time.)
I will introduce you to the likes of Gloria Steinem's Jewish grandmother, Pauline Perlmutter Steinem, who was the president of the Ohio Woman's Suffrage Association and of her Reform temple's sisterhood; Emma Lazarus' cousin, Maud Nathan, who threw herself into the suffragist movement, while her sister Annie opposed it, even as she helped to found Barnard College; and North Carolina's Gertrude Weil, whose mentor was the daughter of Elizabeth Cady Stanton. I will draw on the holdings of the Jewish Women's Archive and other resources to tell the stories of Jewish women who combined civic engagement with Jewish values in a 40-year struggle "in the wilderness" to pass the 19th Amendment.
Let the numbers speak for themselves.
After all, being counted is no trivial matter. Just ask the girls who drew themselves as scientists.
What It Means To Be Counted In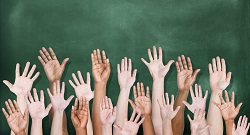 One autumn night in 1992, I arrived home quite late after leading Friday night services in Boston. I set down my guitar and listened in the dark to the one message I'd received:  it was from an educator named Judy Elkin.  She and I were to be leading a 7th grade Family Connection Shabbat program for Temple Isaiah in Lexington, MA the next morning, in about nine hours. Family Connection was an idea conceived by the great Reform educator, Lois Edelstein's ( z"l) to keep parents together with their children on Sunday mornings instead of dropping off the kids and saying goodbye.
I listened to Judy's message in the dark, my jacket still zipped to my neck:  "Julie, I know this is last minute but would you consider composing a song about becoming b'nai mitzvah (bar/bat mitzvah) and being accountable? You know, a song about being counted in a minyan, and maybe share it tomorrow at family connection?"
I stared at the answering machine for a few moments. Then I picked up my guitar, and went to my room where I sat on my bed and composed "Count Me In."  The song wrote itself.  Judy Elkin had opened the door and invited me in. The next day, I taught "Count Me In" to the 7th graders and their parents.  Many of the parents were in tears, looking at me with such love and trust. And I felt love right back for them.  I learned so much Torah in those days and wrote so many songs. 
From the time I entered the educational arena, in both public school and in congregational life, I've been guided by strong, purposeful women.  I was raised by a loving stay-at-home mother who had high expectations of her daughters and the energy to help us achieve our goals.  She still does.  
This is why Rabbi Balin's d'var on Parashat B'midbar resonates so deeply with me. As she discusses, the portion starts out talking about B'nei Yisrael — all of Israel — but then defines that to mean only the men (Num. 1:1-46). I have been quite active in the Jewish community all my life. The idea that women did not count in the census is enraging but not surprising. As powerful as our Torah is in stating the fundamentals of social justice, when it comes to women, the text is painful to read. But read it we must! Granted, this particular text is about military conscription and women would not have been required to take up arms in that era. Still, though, the Bible does mention women who served military functions (Deborah, Yael), so it is possible that women of Moses' time may have wanted to participate.
Rabbi Balin talks about studies that took place in the 1970s and in 2016, in which children revealed biases against the possibility of women becoming scientists, engineers, and mathematicians. Even though women served in those roles, the perception was that they did not enter into STEM professions. These studies remind me of my sister Robin, two years my senior. With the guidance and support of our father, an engineer, and some devoted public school science teachers, all men I believe, my sister Robin Saitz is today one of STEM's 100 Women in Science. She became a successful engineer and is a successful chief marketing officer in high-tech manufacturing.  She is talented and generous and smart! Without that early support, that sense of being counted, her road to achievement would have been considerably more difficult.  And just think about all the women who count on her for inspiration and leadership!
When Robin and I were very young, our mother took us to meet her childhood rabbi in South Bend, Indiana. The old rabbi, nearly blind, put his hands on my sister's head and said, "Always remember, there is only one of you." Then, he repeated the same action for me, reminding me that I am the only one who can contribute in my own way.  A towering figure blessing us — a rabbi  who could barely see. He let us know: You girls count.
By '92 I had already released one album of original Jewish music and had a bunch of new material for a second recording.  That was when I was introduced to Debbie Friedman (z"l), the pioneer of Jewish music — with arrows in her back to prove it.  By the time we met, she was at the height of her career, writing the music that would define the genre.  To be heard and invited to share her stage--to walk beside her on a road that she worked tirelessly to make smooth — it opened the world to me.
I occasionally hear from colleagues and friends when "Count Me In" is sung at b'nai mitzvah (bar/bat mitzvah), confirmation, and conversion celebrations.  It's a pretty great feeling to know the song Judy encouraged me to write still survives after almost 30 years and means something different to everyone. These days, I sing it for my daughters, Katie and Sarah — and for all of our children — for the right to study and excel in STEM subjects, the right to pursue our life's work, the right to pray as we choose; to be counted on and counted in.
Reference Materials
B'midbar, Numbers 1:1−4:20
The Torah: A Modern Commentary, pp. 1,028−1,043; Revised Edition, pp. 897−916
The Torah: A Women's Commentary, pp. 787–814
Haftarah, Hosea 2:1–22 and Machar Chodesh, I Sam. 20:18, 42
The Torah: A Modern Commentary, pp. 1,252−55, 1,687-89; Revised Edition, pp. 917−920, 1,495-97