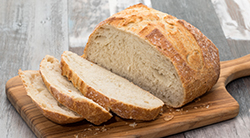 In Parashat Eikev, we read:
"A human being does not live on bread alone…" (Deut. 8:3)
Found on inspirational posters, T-shirts, and in the titles of a great many cookbooks, this short statement constitutes one of the most well-known phrases from Eikev and from the Book of Deuteronomy as a whole. Colloquially, the phrase has come to mean that mere physical sustenance is not sufficient for a life of fulfillment; rather, people need and desire spiritual and cultural nourishment as well. Many Jewish commentaries have noted that in context, this phrase actually insinuates close to the opposite of our conventional understanding; rather, human beings can survive on things other than bread. Or as Rabbi W. Gunther Plaut notes in the essays to this portion, "God taught you in the wilderness that your needs could be met by whatever means God chose" — and not just bread (The Torah: A Modern Commentary: rev. ed. [NY: CCAR Press, 2005] p.1,241).
Both the colloquial and the common Jewish understanding of this phrase shift the focus away from the realm of the physical. And yet, Parashat Eikev as a whole spends a lot of time emphasizing and alluding to the corporeal. The language of the parashah abounds in a preponderance of physicality. We are immediately inundated with references to our fleshly selves:
"[God] will favor you and bless you and multiply you — blessing your issue from the womb…" (Deut.7:13) 

"the wondrous acts that you saw with your own eyes…" (Deut.7:19) 

"[God] subjected you to the hardship of hunger and then gave you manna to eat… the clothes upon you did not wear out, nor did your feet swell these forty years." (Deut. 8:3-4).

"When you have eaten your fill, and have built fine houses to live in…" (Deut. 8:12)

"Every spot on which your foot treads shall be yours…" (Deut.11:24)
Moses also highlights his own bodily actions while narrating his role in the retelling of the story of the Golden Calf found in this portion:
"I stayed on the mountain forty days and forty nights, eating no bread and drinking no water." (Deut. 9:9)

"Thereupon I gripped the two tablets and flung them away with both my hands, smashing them…" (Deut. 9:17) 

"As for that sinful thing you had made, the calf, I took it and put it to the fire; I broke it to bits and ground it thoroughly until it was fine as dust, and I threw its dust into the brook that comes down from the mountain." (Deut. 9:21) 
Even the common bodily metaphors repeat themselves in abundance in this portion. We read about God's "mighty hand and outstretched arm" (Deut. 7:19;11:2), how we are a "stiff-necked people" (Deut. 9:6; 9:13; 10:16), and that we should "walk in God's ways ... walk only in divine paths" (Deut.8:6;10:12).
This repeated emphasis on physicality subtly reminds us that we not only must engage our tradition intellectually and spiritually, but also we must literally embody our connection. We must reinforce our relationship to God and one another with our hands, eyes, mouths, and feet.
The Talmud frequently reminds us of the importance of our physical selves and of the need to cultivate our bodies in order to develop a more fulfilled life. In Bava Batra 12b we read, "Rabbi Avdimi from Haifa says: Before a person eats and drinks, he has two hearts, meaning his heart is unsettled because he is distracted by hunger. But after he eats and drinks, he has only one heart." Rabbi Avdimi teaches us that we must pay attention to our hunger if we wish to focus.
In Shabbat 152a we learn, "the Sages taught in the name of Rabbi Meir: Grind food with your teeth and you will find in your feet the strength to carry your body." Rabbi Meir stresses that we must feed ourselves if we want to move forward in life.
And finally, Sanhedrin 110b elucidates this passage from Malachi: "For behold the day is coming; it burns like a furnace, and all the arrogant and all who do wickedly shall be straw; and the day that is coming shall burn them up, says the Lord of hosts, so that it will leave them neither root nor branch" (Malachi 3:19). The Talmud imparts that "root" refers to the soul and "branch" refers to the body. While our soul may be compared to the roots of a tree, our body is the branches. Here, the Talmud maintains that while our soul grounds and nourishes us, it is our body that literally reaches out into the world.
In accentuating the bodily dimension of our faith, Parashat Eikev complements the intellectual and spiritual facets of our relationship with God explored earlier in Deuteronomy through the Ten Commandments and the Sh'ma. These three sections — the Ten Commandments and the Sh'ma in Parashat Va-et'chanan and all of Parashat Eikev — collectively comprise Moses' second oration in the Book of Deuteronomy (Deut. 4:44-11:25), according to the structural interpretation of Deuteronomy presented in The Torah: A Modern Commentary, rev. ed. (pp. 1,184-1,227). Through this second oration, then, Moses inspires and challenges us to contemplate and reflect on each of these individual aspects of our faith: the intellectual, the spiritual, and physical.         
Cantor Elizabeth Sacks is the senior cantor at Temple Emanuel in Denver, CO.
Belief in God Is Good for Us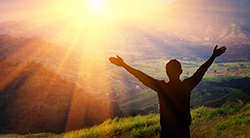 I greatly appreciate Cantor Elizabeth Sacks' close reading of the text, which brings out that Parashat Eikev, "subtly reminds us that we not only must engage our tradition intellectually and spiritually, but also we must literally embody our connection." What a wonderful insight.
I want to draw the reader's attention to yet another part of this parashah as I reflect on the question of how a belief in God can change our lives. Moses warns:
"Take care lest you forget the Eternal your God and fail to keep the divine commandments, rules and laws, which I enjoin upon you today. When you have eaten your fill and have built fine houses to live in, and your herds and flocks have multiplied, and your silver and gold have increased, and everything you own has prospered, beware lest your heart grow haughty and you forget the Eternal your God…and you say to yourselves, 'My own power and the might of my own hand have won this wealth for me'… If you do forget the Eternal your God and follow other gods to serve them or bow down to them, I warn you this day that you shall certainly perish.'" (Deut. 8:11-19)
The older I have gotten the more aware I am of the way my theology affects my inner landscape. In my teens and 20s, I thought the question of God's existence and involvement in the world was mostly an intellectual pursuit. One could reason one's way to the theological answers, and once one had done so, it would not necessarily greatly affect one's outlook on life or sense of well-being.
But as time went on, I have not found that to be the case. In actuality, I have seen that when I assume and internalize a belief in God it gives me a much greater sense of purpose. I also find that connecting with a higher power fills me with more energy, compassion, joy, love, hope, and peace. I have come to realize that my soul (and I think this is true for most people) thrives on this connection to God, even while I cannot prove that God is real or understand God's ways. I guess you could say that my theology has become less based on verifiable reasoning (since we can neither prove nor disprove God), and more determined by what resonates as meaningful and true at the core of my being.
In these verses from Torah that I have quoted here, we are told to make sure to remember our connection to God even when our lives become easier. Verse 19 warns that if we do not remember, we will perish. We can understand this verse as suggesting that God will perform some supernatural act to destroy the people of Israel, and perhaps that is what the text originally meant. However, I see now that this verse can be understood as pointing to a deeper, more spiritual lesson. We need to feel gratitude and a connection to God to flourish.
Rabbi Jonathan Sacks once wrote in a commentary on these verses:
"Though you don't have to be religious to be grateful, there is something about belief in God as creator of the universe, shaper of history and author of the laws of life that directs and facilitates our gratitude. It is hard to feel grateful to a universe that came into existence for no reason and is blind to us and our fate. It is precisely our faith in a personal God that gives force and focus to our thanks." (Covenant & Conversation, The Power of Gratitude [Ekev 5775]),
The difference between the gratitude we feel when we believe in God versus the challenge of feeling deep gratitude without such a belief is one powerful example of how our life changes based on spiritual beliefs.
Parashat Eikev goes on to say:
"And now, O Israel, what does the Eternal your God demand of you? Only this: to revere the Eternal your God, to walk only in divine paths, to love and serve the Eternal your God with all your heart and soul, keeping the Eternal's commandments and laws, which I enjoin upon you today for your good." (Deut.10:12-13) 
I think the mystics understood a long time ago the power of being in relationship with God. Noam Elimelech, written by the 18th century chasidic leader, Elimelech Weisbaum of Lizhensk, reads these verses as suggesting that when we follow the mitzvot and try to love and serve God, we become a vessel for God's holiness (Arthur Green, Speaking Torah: Spiritual Teachings form Around the Maggid's Table [Woodstock, VT: Jewish Lights, 2013], p. 102). It may sound arrogant to suggest a greater holiness for those who follow a theistic path, but I don't think this is meant in a "holier-than-thou" judgmental way. Rather, Noam Elimelech is saying that any of us can be mindful of being a vessel for God's holiness and that this perspective gives our lives a sense of divine purpose. This mindset can be an incredible anchor in life and lead us to be more caring and beneficent. When we follow God's commandments and focus on loving God and God's creatures, this way of life affects us and our world, in the words of the parashah "for your good."
Rabbi Debbie Stiel has served congregations in Nebraska, Iowa, Missouri, and Kansas. She is currently the rabbi of Temple Beth Sholom in Topeka, Kansas. She is the past president of the Midwest Association of Reform Rabbis. She is involved in local interfaith work and social justice efforts and is an active participant in the Institute for Jewish Spirituality's clergy program. She is a co-founder of Topeka's Sisterhood of Salaam Shalom group. Rabbi Stiel is married and has 2 sons.
Reference Materials
Eikev, Deuteronomy 7:12–11:25
The Torah: A Modern Commentary, pp. 1,379–1,408; Revised Edition, pp. 1,226–1,250
The Torah: A Women's Commentary, pp. 1,089–1,114
Second Haftarah of Consolation, Isaiah 49:14–51:3
The Torah: A Modern Commentary, pp. 1,599–1,603; Revised Edition, pp. 1,251–1,254