Image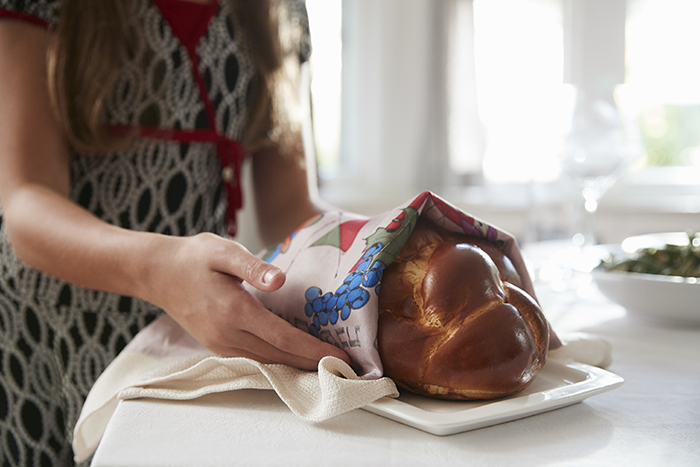 "Why do some people consider converting to Judaism?"
People convert to Judaism for many reasons. Some are seeking religious meaning in their lives – with or without any connection to a Jewish partner – and simply find that Judaism offers a spiritual and religious place in which they are comfortable. For others, a relationship or marriage with a Jewish person offers them a first chance to explore Judaism. Participating in Shabbat dinner, a Shabbat or holiday service, or Torah study may be a completely new and different experience, and can be the first step toward considering conversion.
The conversion process is self-paced and open-ended. Once this journey of Jewish exploration and learning has begun, each seeker will make the individual choices that best suit their life. Some people make the decision to convert shortly after their learning process begins, while others take more time to make a final decision. Some people are motivated to convert because they are part of a Jewish family and are raising or plan to raise Jewish children. Some people choose to convert after living in a Jewish family and participating in Jewish activities for years.
"Do Jews seek converts?"
Centuries ago, Jews engaged in proselytizing, particularly during the Greco-Roman period of Jewish history. At that time, thousands of non-Jews living in Asia Minor embraced Judaism, but the destruction of the Roman Empire and mortal threats against Jews who sought converts marked the end of such efforts.
Judaism is an open religion that readily encourages and welcomes those who turn to it for fulfillment and guidance in meeting life's challenges. In recent years, Reform congregations - and the Reform Jewish community as a whole - have taken a more active approach to seeking out people who might choose to become Jews. At the same time, Judaism respects the religious beliefs of others, as well as the convictions of those who choose no religion.
"How do I know if Judaism is right for me?"
The best way to begin is by participating and learning. Look for a Jewish community, perhaps by finding a congregation in your area. Try attending services or events there; if you have Jewish friends or Jewish family members, ask to share in Shabbat and holidays with them. As you study and try out Jewish practice and customs at your own pace, you will become increasingly comfortable with them.
Another excellent way to get a sense of the traditions and practices of Judaism is to enroll in class such as A Taste of Judaism® or Introduction to Judaism.
"If I take a Judaism class, will I be expected to convert?"
No. The Union for Reform Judaism's courses are open to anyone who wants to learn more about Judaism, including individuals considering conversion, interfaith couples, and those who were born Jewish and want to learn more about their own heritage. Although many people do take the course as part of the process of converting to Judaism, there are no assumptions or expectations that you will convert as a result of your participation in the class.
"If I decide I want to become a Jew, how would I go about it?"
First, make an appointment with an ordained rabbi or cantor. They will not only discuss the process and implications of becoming a Jew, but they will also explore with you your reasons for wanting to do so. In earlier generations, rabbis would discourage potential Jews-by-choice, turning them away three times to test how serious they were. This custom is seldom followed today.
People considering conversion to Judaism are expected to study Jewish theology, rituals, history, culture, and customs, and to begin incorporating Jewish practice into their lives. Though the scope of the course of study varies among Jewish clergy and communities, most require a course in basic Judaism and individual study with a rabbi or cantor, as well as attendance at services and participation in home practice and synagogue life.
Keep in mind that you are free to choose the rabbi or cantor with whom you will work. Talk to more than one person to find someone with whom you feel comfortable. This rabbi or cantor will then become your sponsoring clergy, guiding you through every step of your conversion.
"Can I convert to Judaism online?"
Judaism welcomes those wishing to convert, and a great deal of information about Judaism is now available on the Internet, making it a wonderful way to begin learning. However, conversion to Judaism involves time and effort: study, worship and practice in the context of an active Jewish community. Judaism is a religion of people and community.
Once a student is ready to convert, there are meaningful rituals that mark the new Jew's entrance into the covenant and affirm the community's embrace of them. Therefore, conversion over the Internet is simply not possible or advisable. Furthermore, many rabbis will not recognize online conversion. 
"If I become Jewish, will I be welcome within the Reform Jewish community?"
Modern-day Reform Jews wholeheartedly welcome those who have chosen to convert to Judaism, recognizing that our Jewish community is made stronger by those who actively seek to become Jews. As more and more Jews-by-choice enter the Jewish community and as public discussion of such choice grows more commonplace, Jews-by-choice have found that their acceptance in the Jewish community has grown. In fact, the Reform Jewish community, as a whole, is proud of its many congregational leaders, as well as a number of rabbis and cantors, who are Jews-by-choice.
"If I convert with a Reform ordained rabbi or cantor, will all rabbis consider me a Jew?"
Reform, Reconstructionist, and, under certain circumstances, Conservative rabbis recognize the validity of conversions performed by rabbis of all branches of Judaism. Most Orthodox rabbis, however, do not recognize non-Orthodox conversions. Your sponsoring rabbi will discuss with you any implications of conversion under their guidance.
"If I become a Jew, will I be expected to separate from my family of origin?"
No. Conversion to a new religion does not make you into something altogether new, nor does it require you to sever family ties or memories. Most Jews-by-choice maintain warm relationships with their family of origin. Some converts to Judaism find, however, that, especially initially, their family may be hurt or confused by their choice.
Such feelings often stem from misunderstandings or a lack of knowledge about Judaism and are, therefore, perfectly understandable. Patience and a willingness to discuss your choice openly with your family will be important throughout the conversion process. Your ordained rabbi or cantor should be willing to discuss this will you, as well, as he or she has likely had similar conversations with Jews-to-be in the past. You are not alone!
"If I decide not to become a Jew but I have a partner who is, can our children be raised as Jews?"
Yes. Many interfaith couples raise their children as Jews, and in many such families, the non-Jewish parent still plays a key role in providing for their children's Jewish education and creating a supportive Jewish home environment.
The more you learn about Judaism, the easier this will be for you. Many Jews see such parents as the givers of a precious gift and as a blessing to the Jewish people.
"If I decide not to become Jewish, can I still worship in a synagogue with my Jewish family?"
Most Reform and Reconstructionist congregations, as well as some Conservative and Orthodox congregations, warmly welcome interfaith families to participate in synagogue life in various ways.
Compelled by a verse from the Book of Isaiah 56:7 – "For My house shall be called a house of prayer for all peoples" – almost all Jewish worship services are open to the public, so you and your family are welcome to attend. Shabbat services are held on Friday evening and Saturday morning, but you should call the congregation during the week to find out specific times of worship.
"If I'm not yet ready to convert to Judaism or if I decide not to, what options do my Jewish partner and I have for our wedding ceremony?"
This is a very sensitive issue, on which there is a broad range of opinions. First, seek out an ordained rabbi or cantor with whom you feel comfortable so that you can have a thorough discussion about your options. No matter what kind of wedding ceremony you have, the Reform Jewish community considers itself a portal to Jewish life for intermarried couples. Through organized outreach programming and a general atmosphere of openness, interfaith couples will find Reform congregations welcoming in a myriad ways.
"How can I learn more about Judaism and about the conversion process?"
Here on ReformJudaism.org, designed to help people explore Reform Judaism, you will find answers to questions, information about Shabbat and Jewish holidays, ways to celebrate at home with blessings and recipes, comments on the Torah portion of the week, and more.
If you'd like to attend services or speak with a rabbi, locate a congregation or rabbi near you using this handy Find a Congregation tool.
You may also wish to take a class to learn more about Judaism:
Find A Taste of Judaism® classes in your area. Everyone, Jewish or not, is welcome at this free three-session class for beginners that explores the topics of Jewish spirituality, ethics and community values.
Find Introduction to Judaism classes in your area. In this 16- to 20-week class (depending on location), you'll learn the fundamentals of Jewish thought and practice. This course is perfect for interfaith couples, non-Jews considering conversion, and Jews looking for an adult-level introduction.
Check out our recommended reading list for books, articles, podcasts, and more to learn more about Judaism and the conversion process.