Image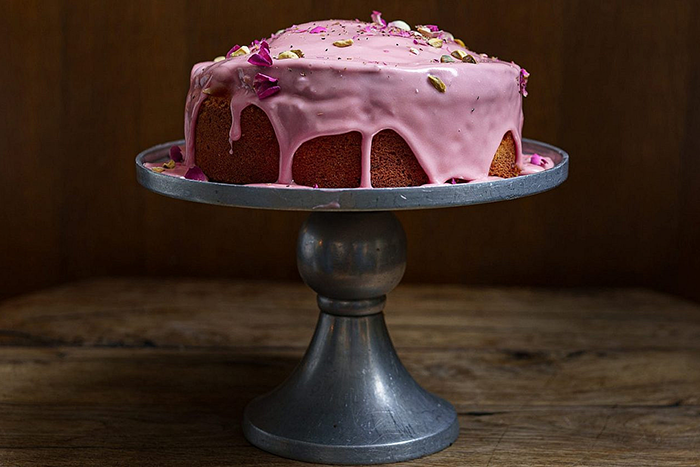 The saying goes, "tell me what you eat, and I'll tell you who you are." Food is not only fuel for our bodies, it's also a conduit of culture, storytelling, and identity. Jewish people know this well. Our culinary traditions have preserved our stories and history, from generation to generation. You might go so far to say that they have preserved us as a people. Just like the Jewish people itself, our foods are a beautiful mosaic, in which cultures and identities come together to create a whole that is so much greater - and so much more meaningful - than the sum of its parts.
For this recipe series, "Feasting with Foodish," Reform Judaism has collaborated with Foodish, the culinary arm of ANU - Museum of the Jewish People in Tel Aviv. We hope you enjoy these recipes, which have been sourced from ancient and modern Jewish communities from the four corners of the earth, straight to your table.
According to legend, a Persian woman fell head-over-heels with a prince and plotted to feed him a potion that would make him fall in love with her. She prepared her love potion in the form of this cake spiced with cardamom, rose water, and pomegranate. According to some versions, the prince ate the cake, fell in love, and they married; others say the spell failed and the woman ate the remainder of the cake.
This cake is unique, not because it holds magical powers, but rather because most Persian desserts feature rice or chickpea flour or semi-nougat candies, but this cake has none. Rottem Lieberson, cookbook author, blogger, and a proud Persian, says this cake was made by her family members for Rosh Hashanah and Nowruz, the Persian New Year which falls on the spring equinox. In some versions, the cake is made entirely with semolina or almond flour. The latter version makes this cake a great addition to your Passover menu.
Ingredients
2.5 oz. softened butter + a bit for greasing
4.5 oz. sugar (2/3 cup)
4 medium eggs
1 1/2 teaspoons ground cardamom
8 oz. almond meal (2+1/3 cups)
Juice of one lemon
Zest of one lemon
1 tablespoon rose water
4 oz. sifted all-purpose flour (3/4 cup), or a similar amount of almond meal
0.10 oz. baking powder (1 teaspoon)
Glazing
8.5 oz. sugar powder (2 cups)
2 tablespoons fresh lemon juice
1/2 teaspoon rose water
2-3 tablespoons pomegranate concentrate
For serving
A handful of raw pistachios, lightly toasted in an oil-free pan, finely chopped
A few rose petals
Instructions
Preheat oven to 350°F.
Line a baking pan with parchment paper and grease with butter.
Beat butter and sugar in a bowl of a mixer until smooth and fluffy.
Beat in the eggs one at a time (wait until the first egg is incorporated before adding another one, and so on.)
Add cardamom, almond flour, lemon juice, zest and rose water and whisk until smooth.
Add flour and baking powder and whisk until smooth.
Transfer to the greased pan and bake for 35-40 minutes until the cake is a light gold (no need to brown it, since it will be glazed and overbaking will result in a dry cake), or when a toothpick inserted into the center comes out clean with a few crumbs.
Cool for about 10 minutes and transfer to a wire cooling rack.
When the cake has cooled, glaze it.
Mix powdered sugar, lemon juice, rose water and pomegranate concentrate in a bowl until smooth. You may add sugar water, lemon juice and pomegranate concentrate to reach the desired consistency, color, and taste.
Pour over the center of the cake and allow it to run down the sides.
Garnish with pistachios and rose petals.
Semolina cakes (cakes made of a coarse flour from durum wheat) are very common throughout the Balkans. Some people add dates to them, some add nuts, and some - as in this recipe - grind the nuts and add it to the cake batter. All versions have one thing in common: an easy-to-make semolina batter that doesn't require kneading, rising, or rolling. The name originates from the Turkish words Tez Pişti - cooked quickly - also spelled Tishpishti, Pishpishtil, Pishpishtin, etc. Tishpishti is a traditional dish among Sephardic Jews, especially on Passover, as it is generally unleavened, but is also served on Rosh Hashanah.
Ingredients (1 pan)
1 medium glass pan
1 cup all-purpose flour
1 cup semolina
1 cup nuts or almonds, finely ground
1 cup sugar
5.3 oz. butter or 1 cup oil
3 eggs
Zest and juice of 1 orange
1 bag (0.3 oz.) baking powder
1 teaspoon vanilla extract
1/3 cup whole bleached almonds
Sugar syrup
1.5 cups sugar (use 1 cup if you prefer a less sweet cake)
1.5 cups water
Juice of half a lemon
Instructions
Prepare the sugar syrup by bringing the syrup ingredients to a boil. Simmer for 15 minutes. Remove from heat, let cool and keep aside.
Beat the eggs, orange juice, vanilla extract, orange zest and oil in a large bowl.
Mix the dry ingredients in a separate bowl.
Mix the dry ingredients with the liquid mixture until smooth.
Transfer to an oiled glass pan.
Flatten using a knife or offset spatula and cut into diamonds by slicing the batter crosswise, then making diagonal cuts across the rows. Place an almond in the middle of each diamond.
Bake in an oven preheated to 350°F for 25 minutes or until golden brown, when a toothpick inserted into the center comes out clean.
Pour the room temperature syrup over the freshly baked cake and let it absorb for at least one hour before serving.
Serve warm, preferably with whipped cream.
Related Posts
Image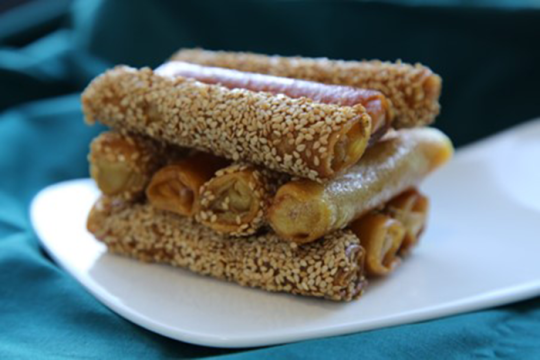 As Hanukkah is deeply entwined with food, especially fried food, we've found some delicious Sephardic recipes to add to your celebration, sourced with permission from Hélène Jawhara Piñer's cookbook, Sephardi: Cooking the History.
Image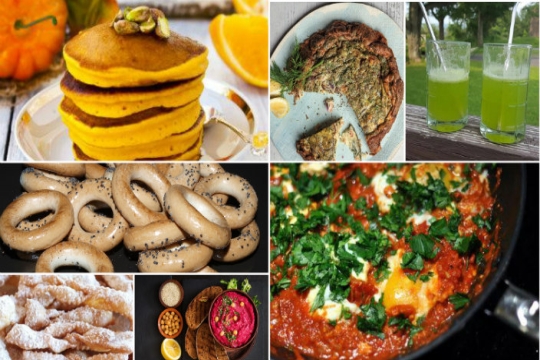 Summer days are fleeting. Why not seize the moment and celebrate summer by hosting a healthy and pretty brunch – with a Jewish twist?