Image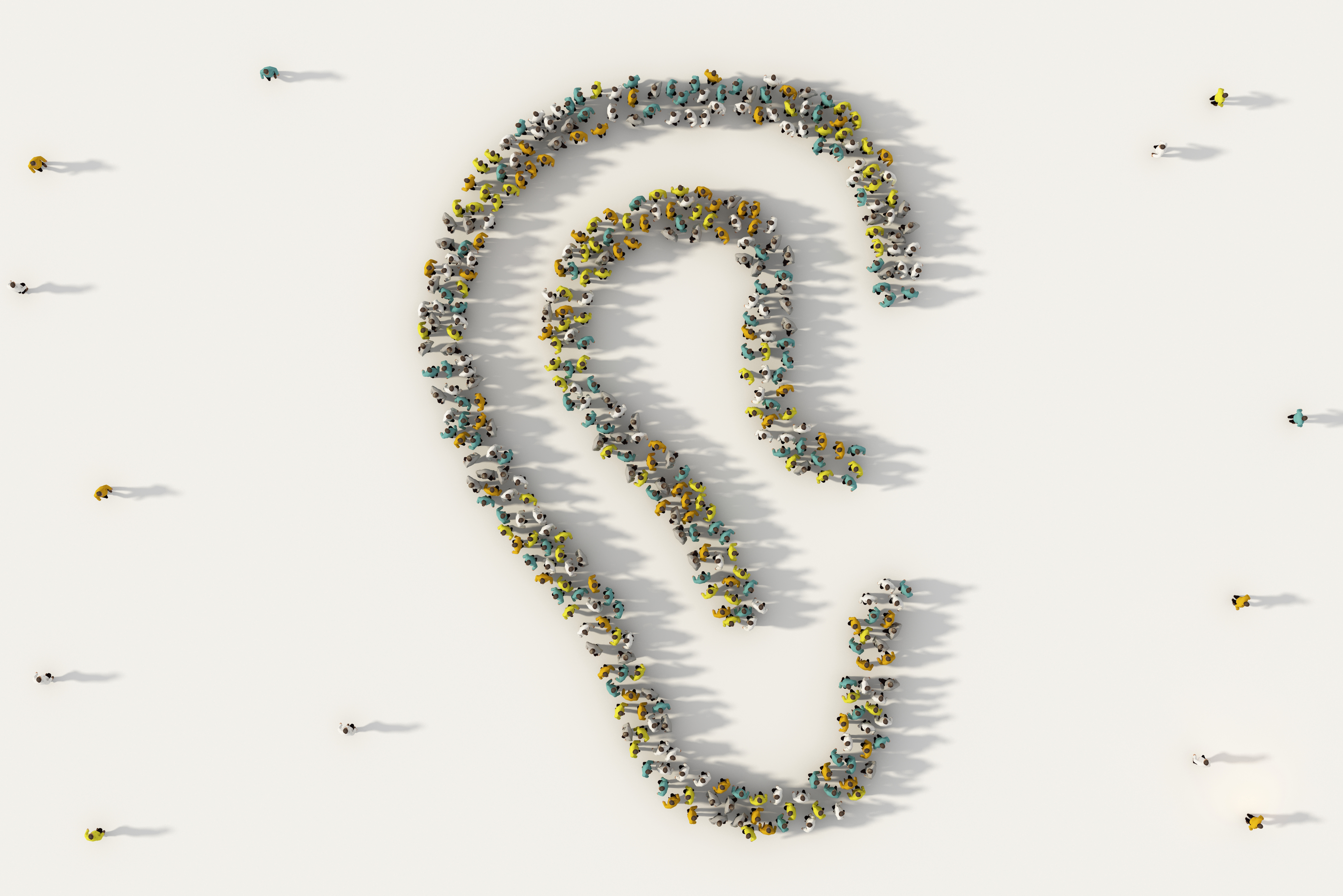 In many years, we read the Torah portion Haazinu (Deuteronomy 32) on the Shabbat immediately preceding or within a few weeks of Indigenous People's Day. In the parshah, Moses is about to die and calls all the children of Israel before him: "Give ear, O heavens, let me speak; Let the earth hear the words I utter!" (Deuteronomy 32:1). November is Native American Heritage Month, a time when listening is especially important.
Before joining the Religious Action Center (RAC) as the legislative assistant covering Native American rights, I paid attention to the news and read and heard about the layers of tsuris - heartbreaking misery - Native Americans face, often at the hands of our own society and government: missing and murdered Indigenous women; callous, cruel disrespect for their sacred lands like Bears Ears; the abduction and murder of their children in boarding schools; grave health and wellness problems like diabetes, alcoholism, and food insecurity, which compounded the deleterious effects of COVID-19; and countless broken treaties.
All this tsuris compelled me to ask, "What can I do to help?"
After starting at the RAC, I spoke with Dr. Gordon Bronitsky, a Jewish anthropologist dedicated to educating people about Native American culture and who has long-standing relationships with the Navajo (Diné) people. He offered a different perspective, sharing stories of the richness and beauty of a kinaaldá, a girl's coming of age ceremony. He spoke of their language, how the verbs are incredibly difficult. He spoke of the taste of sun cake, how rich and decadent it is. He spoke of the significance of a baby's first laugh in Diné culture: People will ask, "Has the baby laughed yet?" because a baby's laugh signifies the child's intent to stay in this life.
For all I thought I knew, there was an entire world of beauty and resilience that I had missed. I was guilty of disrespecting Indigenous cultures. Of failing to listen. Of failing to see the entire picture. Of being condescending and believing they needed my help, when what I actually needed was to open my ears and mind and listen.
There is both beauty and tsuris in the Native American experience. Consider fry bread. My friend Nazshonnii (who goes by Naz for short) led a Hillel Shabbat program about Navajo foods. Fry bread, she explained, is a staple in many rural and urban inter-tribal communities and the main attraction at powwow food stations and gatherings. The fluffy, crispy, fried dough became part of the Navajo diet due to government surplus and necessity. Like other easily accessible foods, fry bread uses processed white flour, an ingredient introduced to Native Americans at the time of first contact with European colonizers.
The dual nature of fry bread as both a necessary food staple and an enduring memory of historic trauma reveals a complicated, lasting legacy. Almost 200 years ago, the Diné people were forced to leave Dinétah, their homelands. Many walked up to 500 miles or were murdered along the way. The torturous walk, now known as the Longest Walk, is only one instance of the brutal colonization endured by one tribe. The Diné eventually returned to the vicinity of their former home, but the microbiome they returned to differed significantly from what it had been originally, rendering their traditional farming techniques useless. This led to an inevitable dependence on government surplus and the resulting health crises. 
When describing her experiences, Naz used the word "isolating." When I asked her to elaborate, she said, "You can be standing right next to someone and not be seen, not be heard. You don't exist in that space. There's invisibility. If your community's problems aren't seen or heard, they don't exist." Reflecting upon this statement, Jewish teaching, the passage of Indigenous People's Day, and Native American Heritage Month, I urge my fellow Jews to listen to Indigenous People, their experiences, pain, joy, grief, and stories -- their voices. Haazinu: give them your ear.
The RAC's Racial Justice Campaign was born out of the understanding that People of Color in America face oppression that white people often don't see, experience, or are able to name. The majority of American Jews are white-presenting (approximately 12 to 15 percent of Jews in the U.S. are Jews of Color), but they fall into a kind of gray space. Historically, they faced persecution and discrimination, but were also sometimes accepted as white, gaining a modicum of privilege. Due to this history of systemic oppression, it is our responsibility to listen, to question, to think, and to act in pursuit of justice for all peoples.
These are the questions we must ask ourselves today: How can we listen to and uplift Native American voices? How can we hold ourselves, our society, and our governments responsible for the bloody history of violence and destruction that continues to this day? How can we educate ourselves and our children about Native American cultures and history?
To prevent this ugly legacy and its poisonous inheritances from staining our future, we must listen to and learn from Indigenous Peoples and Native Americans.
A video talk about the similarities of Native Americans and Jews.
Further reading about Indigenous People's Day.
More information about Native American Heritage Month.
Related Posts
Image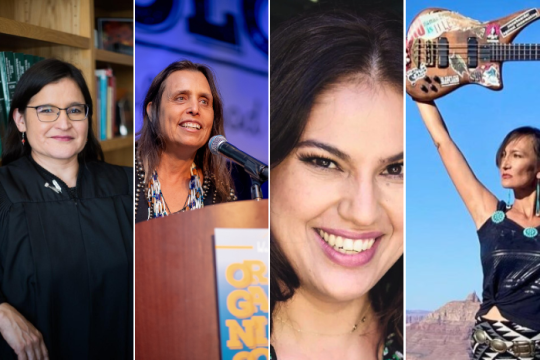 In honor of Native American heritage month, I'm excited to share with you four women whose intersecting Jewish and Indigenous identities have influenced their work as authors, artists, actors, activists, lawyers, and musicians. These women come from a wide array of ages, cultures, and locations; their work speaks to the ways that Jewish values of justice, learning, and belonging overlap with Indigenous culture.
Image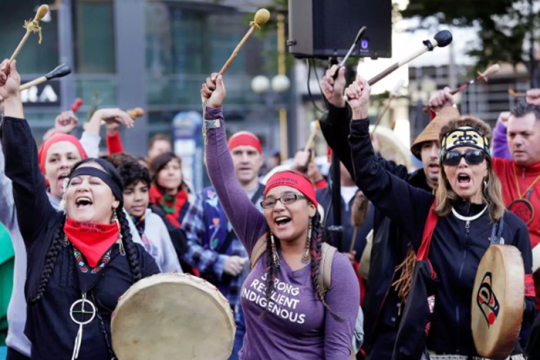 One theme central to the month of Kislev is emerging from the struggle to survive. Jewish legend holds that it was in the month of Kislev that a rainbow appeared following the great flood in the time of Noah, that the Mishkan (Tabernacle) was built, and that the foundation stones of the Second Temple were laid.
Image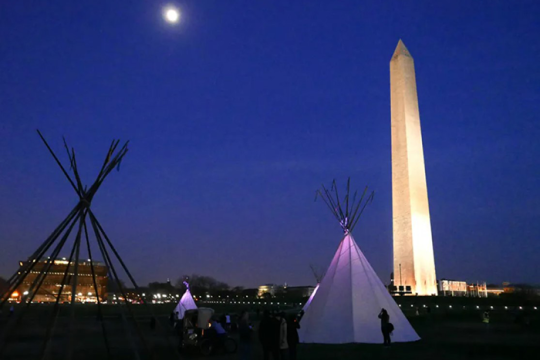 In November, we celebrate Native American Heritage Month. Unfortunately, much of North America is just beginning to recognize the contributions of Indigenous peoples.