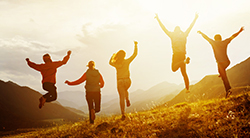 More than any other Jewish holiday or ritual, I love the audacity of Sukkot. After the many profound words and seemingly endless prayers of the High Holidays, Sukkot offers a very different holiday mode. The main theme and ultimate goal of the holiday is to achieve climactic joy. While there are a myriad of customs and rituals associated with the building of the sukkah, and we celebrate the fall harvest, there main mitzvah is to be exceedingly joyful: First the Deuteronomist declares a few times "you shall rejoice" (Deut. 16:14) and then: "you shall have nothing but joy" or said another way, "you shall be exceedingly joyous" (Deut. 16:15).
While there are many interesting rituals, the main theme of the holiday is pure joy. We even include in the liturgy in several places a request for a special blessing for Z'man Simchateinu, this "season of our joy." Why is this season particularly joyful? How can God demand or command an emotion?
What is the source of the joy? The sources of this joy are simply the reality of freedom and the possibility of a radically different future. If we've really been forgiven on Yom Kippur, if the world is truly renewed and freedom is real, then Sukkot is the culmination of all we've ever dreamed of or prayed for—it is a climactic moment. How can we not be joyful?
Like many people, I often bristle at the idea of being told how to feel. But there is something about the motivation for the directive to be exceedingly joyous on Sukkot that makes the idea of transcending oneself and our own issues possible. The motivation is the possibility of a much bigger joy. Emerging out of many hours of prayers, hopefully some deep internal reflection—and definitely a lot of time inside—we suddenly burst out of the synagogue walls and the walls of our homes into the great sukkah outdoors. Dwelling outside in nature is beautiful, but doing so in the insecurity of booths is a powerful ritual reminding us both of the journey out of Egypt and, ultimately, of our place in the universe. We can now fully imagine the joy that is possible if we are willing to embrace it.
Sukkot is also different than all other holidays because it doesn't commemorate a historic event of liberation like Passover but rather an extended journey forward out of slavery, and toward freedom and self-determination. As my teacher Rabbi Yitz Greenberg teaches: "On Passover, Jews restage the great event of liberation. Sukkot celebrates the way of liberation—the march across a barren desert to freedom and the Promised Land" (Irving Greenberg, The Jewish Way: Living the Holidays,1988, p. 96). Now that we've declared the new year, repented, and declared our intentions, we must set out to embody who we want to be as people, a community, and a force for good in the greater universe. But what is the way of liberation?
There is no better way to embrace our place in the larger universe than leaving our secure dwellings and going outside into whatever the weather is (as long as it's safe!) and embracing it as a reality beyond our control. This letting go of our capacity to control everything and moving into the world with confidence is definitely a potential source of great joy. Redeemed from Egypt, purified by Yom Kippur, we are free to determine our journey and our future. What greater joy can there be?
The Sukkot ritual we still observe today is based on the biblical commandment that the Israelites of ancient times—and we today—dwell in temporary huts for one week a year "in order that future generations may know that I made the Israelite people live in booths when I brought them out of the land of Egypt, I the Eternal your God" (Lev. 23:43). But we don't just go out and embrace the great outdoors, we are required to do so with a particularly deep and profound joy, even if we have to force it a bit at first.  
As Rabbi Irving (Yitz) Greenberg writes, "Sukkot has become the model for this wordily [as opposed to the next world] enjoyment, which is why it is called the time of rejoicing" (ibid., Greenberg, p.112). The Talmud outlines some of what we can do to help make it happen for those around us. "Our Rabbis taught: A man is duty-bound to make his children and his household rejoice on a festival, for it is said, 'And you shall rejoice on your feast, [you and your son, and your daughter, etc.]' "(Babylonian Talmud, P'sachim 109a). The Talmudic passage continues by describing the fine food, wine, clothing, and so on that one must give each member of the family so that each one can truly rejoice. It follows that this is a good time to ask how we can help not only ourselves, but also those closest to us to rejoice as well.
Sukkot offers a myriad of ways to ritualize and live the way of liberation, and experience the profound joy in being free to do so. The pure joy of the journey, however, will be constantly challenged by the elements. Every day of the Israelites' journey through the desert, their building sukkot repeatedly only to have to take them down and keep moving forward, tested their faith and commitment to the journey. As Greenberg writes: "It is relatively easy to rise to one peak moment of … courageous commitment. It is more taxing and more heroic to wrestle with everyday obstacles without highs or diversions. True maturity means learning to appreciate the finite rewards of every day along the way" (ibid., Greenberg, p. 97).
In this season of our joy the climax is ours to experience, if we realize its potential. But the greater gift is to enter into renewed relationships with those closest to us, with God, and with the universe. Then some deep joy will be ours not only on this holiday, but also for many days in the days and years to come. As the Rebbe Nachman of Bratslav is famously quoted as saying: "It is a mitzvah to be joyous at all times."
Greenberg writes, "Only those who know the fragility of life can truly appreciate the full preciousness of every moment…. The release from Yom Kippur leads to the extraordinary outburst of life that is Sukkot" (ibid., Greenberg, p.112).
Rabbi Rachel Sabath Beit-Halachmi, Ph.D. serves Hebrew Union College-Jewish Institute of Religion as the National Director of Recruitment and Admissions, and Assistant Professor of Jewish Thought and Ethics. She was also named President's Scholar in 2013. Prior to this appointment, she served as Vice President of the Shalom Hartman Institute in Jerusalem. Rabbi Sabath earned a Ph.D. in Jewish Philosophy at the Jewish Theological Seminary and has co-authored two books and published numerous articles in the Jerusalem Post, the Huffington Post, the Times of Israel, and other venues. She is currently writing a book on covenant theology and co-editing a volume with Rabbi Rachel Adler, Ph.D. on ethics and gender.
How to Experience God's Wonders Anew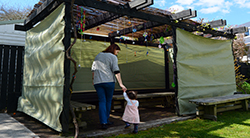 On the Shabbat that falls amid the holiday of Sukkot (Chol HaMo-eid Sukkot) we turn our attention to two distinct sections of Torah: the latter stages of the Book of Exodus and a section of Parashat Pinchas from the Book of Numbers (29:26-31).
In the Exodus reading, taken from Parashat Ki Tisa, we read of Moses desiring to see God's face: "Oh, let me behold Your Presence!" (Ex. 33:18). Moses of course learns that he cannot see God's face, nor can we all these years later. God, however, reminds Moses (and us) that God can be felt, if not seen, in the "wonders" that God enacts for us and those around us (Ex .34:10). Indeed, Moses will experience God once and again, even if Moses cannot actually see God. Whether at Sinai, along the winding road to the Promised Land, or in holy encounters with family and community, Moses will absolutely encounter God once and again. 
It is amid the holiday of Sukkot that we become privy to God and God's wonders in ways that are unique and lasting. Following the theological heaviness of Yom Kippur, we leave the sanctuary for the sukkah and all that it offers: air, possibility, and physical and spiritual replenishment. In the sukkah, gazing up at an autumn sky, we feel the sheer size of the natural universe of which we are a tiny part. Stars stretch from one end of the sky to the other. A large Tishrei moon shines down bright. Indeed, Sukkot, perhaps unlike any other holiday, urges us to see our world as more than errands, more than angst, more than unnerving news cycles, but as a sprawling collection of diverse people and places, past and present, and myriad miracles and beauty. 
Tractate Sukkah of the Babylonian Talmud expounds on the many wide-ranging building sites, sizes, and parameters of a kosher sukkah, all in an effort to encourage us to create our own and dwell within it during the holiday. God commands us into the sukkah precisely so that we can be shaken from routine and potential small-mindedness, and experience anew the grandeur of our world and all that it means to be a part of it. We therefore embark on a brand new year, 5779, with renewed zeal, gratitude, and a sense of wonder. 
Rabbi Benjamin David is the senior rabbi of Adath Emanu-El in Mt. Laurel, NJ. 
Reference Materials
Chol HaMo-eid Sukkot, Exodus 33:12–34:26
The Torah: A Modern Commentary, pp. 657–661; Revised Edition, pp. 592–596
The Torah: A Women's Commentary, pp. 508–512
Haftarah, Ezekiel 38:18–39:7
The Torah: A Modern Commentary, pp. 1,640–1,641; Revised Edition, pp. 1,443–1,444
The Book of Ecclesiastes is read