Image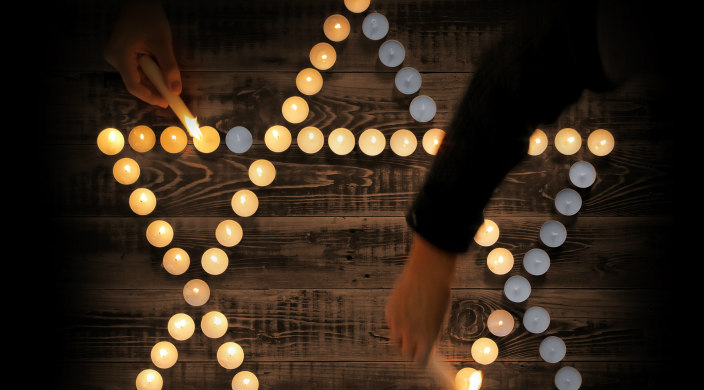 October 27 marks the anniversary of the 2018 shooting at Tree of Life Or L'Simcha Congregation in Pittsburgh, PA – the deadliest attack on Jews in American history.
Even in the years following the shooting, we have continued to grapple with our grief, fear, and uncertainty about the future. And yet, as Reform Jewish leader Rabbi Jonah Pesner wrote after his visit to Pittsburgh in the wake of the shootings:
"Our resolve, already so strong, has hardened even further. We are stronger than ever, and together we will overcome this."
As we remember that dark day in our history and honor those who lost their lives, here are a few resources to help you mark the anniversary in ways that are, we hope, emotionally, mentally, and Jewishly fulfilling for you:
1. Recite the Mourner's Kaddish for those who were killed.
In Jewish tradition, we recite the Mourner's Kaddish during the bereavement period and  every year to mark the anniversary of a death of a loved one. Jews around the world will recite this prayer on the anniversary of the Tree of Life shooting. Find the text of the Mourner's Kaddish here. 
2. Attend services to mark the anniversary.
On the one-year anniversary of the shooting, Jews the world over used the hashtag #ShowUpforShabbat, attending services at synagogues and other community gatherings to remember those killed. You, too, can #ShowUpforShabbat on the anniversary of the shooting by finding a Reform congregation to join for Shabbat services. Search our congregational directory.
3. Write to Congress.
If you live in the United States, take a moment to write to your members of Congress to urge them to take legislative action to address the epidemic of gun violence in America. Thanks to our friends at the Religious Action Center of Reform Judaism, it's easier than ever to write to your elected officials with just a few clicks of the mouse. Urge Congress to take immediate action to end the scourge of gun violence.
4. Read liturgy in remembrance of this tragedy.
If you're hosting a special service or even a Shabbat dinner at home, add a special reading to your observance. Reform Jewish liturgist Alden Solovy offers a "Prayer Against Gun Violence," and the Central Conference of American Rabbis has compiled beautiful prayers of healing for use communally or individually. "Prayer for the Tree of Life Synagogue," written days after the shooting, is still applicable today.
5. Listen to music that heals.
After the shooting, Reform Cantor Rosalie Will compiled a playlist of songs, both Jewish and otherwise, to be used in gatherings of healing and hope for all faiths who want to stand together against violence and hate. Listen to "Songs for Healing: Music to Listen to After Tragedy".
In the years that follow this gut-wrenching, world-changing act of violence, we continue to mourn, pray, and do our part to bring about justice and peace. As Rabbi Pesner wrote in 2018, "Let our deeds of justice and our words of love turn the silent stillness of death into the possibility of liberty and new life." Amen.

To learn more about the Reform Jewish community's work to end gun violence in the U.S., please visit rac.org/gvp.