Image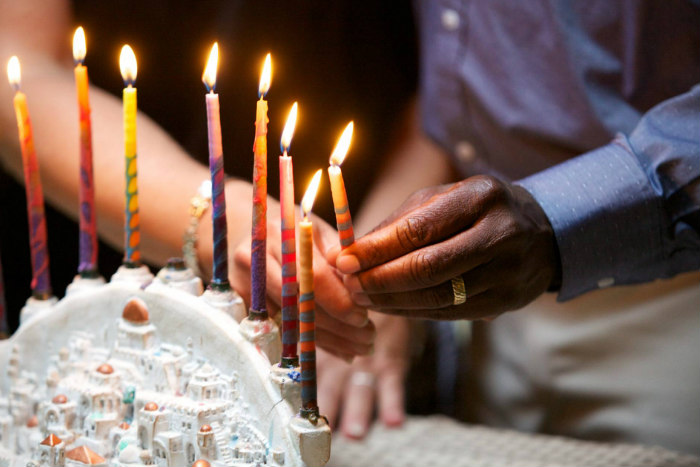 Our first winter together, my partner and I started discussing our family holiday traditions. He grew up in a large family on the south side of Chicago celebrating both Christmas and Kwanzaa. Meanwhile, I grew up in a suburb of Phoenix celebrating Hanukkah, often as the only Jewish person in my class.
As we each shared some favorite holiday memories, my partner asked, "So what does each candle of Hanukkah symbolize?"
Puzzled, I asked him to explain what he meant. "You know, each night, you light a candle and there's a theme or a word for that night," he said. "Just like for Kwanzaa."
The only Kwanzaa party I attended happened years before I met my partner, at the home of a friend of a friend. While I watched the host pour libations and light the kinara (candelabra), I missed the part where the guests discussed the theme of that night.
Kwanzaa was first observed in 1966, in the aftermath of the Watts Uprising, as a way for Black Americans to celebrate African unity and heritage, though all terminology is in Swahili. On each of the seven nights of Kwanzaa, a candle is lit in the kinara and one of the following principles is discussed:
Umoja, unity
Kujichagulia, self-determination
Ujima, collective work and responsibility
Ujamaa, cooperative economics
Nia, purpose
Kuumba, creativity
Imani, faith
Now, during Kwanzaa, my partner and I will text each other the greeting, "Habari gani?" (What's happening?), and the other responds with the theme of that night. Each year, the Kwanzaa themes guide us into conversations about umoja (unity), imani (faith) and more.
I've come to appreciate Kwanzaa and its connections to the Jewish holidays. Like Sukkot, Kwanzaa comes at harvest time and means "first fruits." And like Hanukkah, Kwanzaa involves lighting candles during the darkest time of the year. That brings us back to my partner's original question: "What does each candle of Hanukkah symbolize?"
As the partnerships director at Custom & Craft (a project of Haggadot.com), I took this question as an invitation. Our organization uses technology to imagine new formats for engaging ancient traditions – so, because there aren't any existing minhagimminhagמִנְהָגCustom, which may carry the weight of halachah (law).   connecting each night of Hanukkah to a theme, I created my own.
Or (Light): When the darkness of the winter feels especially foreboding, the glowing Hanukkah candles have the power to comfort and give us hope for brighter days.
Ge'ulah (Liberation): In the Hanukkah story, the revolt against the religious oppression of the Syrian Greeks. We can build on ongoing conversations about race at Hanukkah by seeing it as an opportunity to revisit what liberation from oppression means today.
Nadivut (Generosity): With many of our neighbors in need, we might skip a night of giving physical gifts and instead focus on generosity and social justice – which also ties into Kwanzaa's third principle of ujimaa.
Nisim (Miracles): During Hanukkah, we thank the Divine for the miracles performed on behalf of our ancestors. Our ancestors played an active role, and we too have the innate power to create miracles.
Cherut (Freedom): Just as some Hellenistic Jews assimilated Greek customs into their Jewish lives, we have the freedom to choose an expression of Judaism that feels most authentic to us.
Simcha (Joy): Put on your , it's time to (really) celebrate Hanukkah! Decorate, listen to holiday music, and enjoy delicious fried foods. Rather than making latkes, I like buying fried chicken and jalebi, fried South Asian sweets that are easily found in my neighborhood.
Chanukah (Dedication): On Rosh HaShanah, we set our intentions for the new year. If you need a refresh, Hanukkah – which means "dedication" – is a perfect time to revisit and recommit.
Emunah (Faith): Connecting with Kwanzaa's final night, faith is a big part of Hanukkah. The Maccabees had faith, even when they could not reach the Temple – and we too have faith that we can live in a world where the principles of Kwanzaa and these themes of Hanukkah are a reality.
From our family to yours, habari gani and chag sameachChag SameachHebrew for term meaning, "happy holiday." !
Find rituals for creating your own Hanukkah candle-lighting themes at customandcraft.org/chanukah.