Search Results
Displaying 1 - 10 of 40
Cold and dark
the month of Kislev
comes in

Ending Cheshvan
ushering in the month of
festive
lights

With great excitement, tinged with a touch of trepidation, I moved to Israel in the summer of 1996 to begin my first year of rabbinical school at Hebrew Union College.
The actual Rosh Chodesh celebration is hardly mandated, so there's a lot of room for creativity in designing a ritual celebration. Here are a few ideas for starting your own.
"When Adar enters, joy increases!" So says the wisdom of our tradition (B. Ta'anit 29a.) Why?
This year, we celebrate the beginning of the month of Adar between "Shabbat Shekalim" and the Shabbat when we read the Torah portion "Truma" (donation). Shabbat Shekalim reminds us that each and every one of us has an equal share in the amazing challenge that is the State of Israel.
I had come to Israel to join my friend Anat Hoffman, who is one the leaders of the Women of the Wall. The previous month, there had been a random decree that as women were coming in, they were not allowed to wear their prayer shawls, their tallits. I've been wearing a prayer shawl since I would say the late '70s, a long time. And it's just considered a regular part of my ritual in prayer. In 1968, the Orthodox rabbinic created a mechitza, which is a separation between men and women at the Western Wall. And the understanding here in a very traditionally observant manner, in an orthodox manner, is that men are obligated to pray. Women are not. The Orthodox have deemed this site to be a synagogue.
We Stood Together at Sinai: We May Stand Together at the Kotel, Too
Image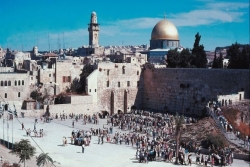 I grew up in a home with my single mother and two sisters. My mother had one sister, two nieces, and one nephew. When my mother died, our synagogue shipped in the men of the traveling shiva minyan to say Kaddish for her the night of her funeral.