Image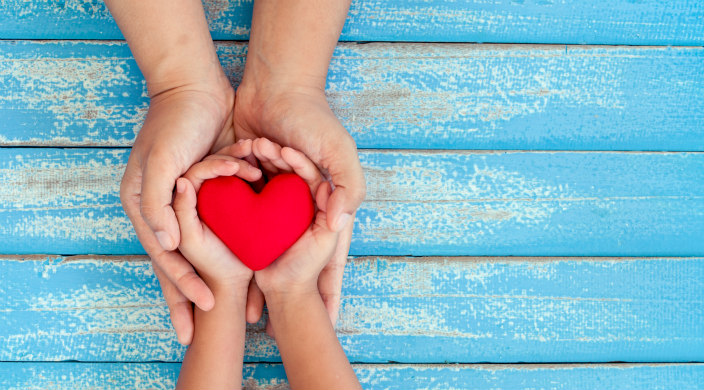 Throughout the years, we at ReformJudaism.org have been honored to publish countless essays about families, many of them with a focus on motherhood. We've shared stories from mothers, about mothers, honoring late mothers, and hoping for motherhood.
This Mother's Day, we've rounded up a few of our favorite stories about moms to share with you. We hope you'll read them, enjoy them, relate to them, comment on them, and maybe share stories of your own mothers. Happy Mother's Day!
Esther Kustanowitz writes about a piece of jewelry she inherited after her mother's death and how it helps her feel connected to both her late mother and her late grandmother – as well as to her Judaism. "Remembering how it was on my hand instead of my mother's, how she wouldn't touch my hand again, the tears would return," she writes – but there's a message from her mother at the end of the story.  
Jacob Kraus shares how it felt to pray at the Western Wall with his mother instead of separating from her: "As we approached the plaza together, I remember feeling grateful and hopeful… I also felt hopeful that the establishment of this plaza would not mark the end of the journey toward increased recognition of progressive Judaism in Israel." His mother, a Reform rabbi, likely felt the same.
Jane E. Herman writes about how, even after her mother's death, she continues to celebrate Mother's Day: "Just as I honor my sister and my aunts on Mother's Day for the roles they play in my life, I use the occasion – and every day, for that matter – to honor my mom." She shares language from her late mother's ethical will and explains how it inspires the way she lives today.
Stacey Zisook Robinson, z"l, shares memories of her mother making chicken soup for Shabbat – the smells, the tastes, and the memories that linger with her, long beyond her mother's time on earth. "The soup was Shabbat," she writes, "in the same way that going to synagogue and being part of my community is now." She even shares her bubbe's recipe for chicken soup.
In an essay written before the legalization of marriage equality, Leah Dawson writes about growing up in a two-mother home. While some aspects up her upbringing may have been different from those of her peers who had heterosexual parents, she says, "My emotional development –my feeling whole and loved, cared for and accepted (the true qualifications of parenthood) – have never been for want."
Rabbi Elyse Goldstein shares seven "mourner's tips" – one for each day of shiva – in honor of her mother's Jewish life. "She touched thousands of lives and inspired not just me but hundreds of other kids to become rabbis, cantors, Jewish educators, synagogue presidents, and involved, passionate Reform Jews," Rabbi Goldstein explains.
Cantor Sheila Nesis writers about how Psalm 23 reminds her of her late mother on the anniversary of her death. "Although this psalm talks about God," she writes, "I think about it this morning and see it under a completely new light. Today, I think it talks about you."
Howard Lev shares his experiences as the child of two parents who both had disabilities; his mother used a wheelchair after contracting polio as a child, and his father had a pronounced limp due to scoliosis. "I desperately wish my parents were still alive today to see the strides made for people with disabilities," Lev writes after discussing the challenges they faced – and overcame – together. "I know they would've loved the opportunity to take part in communal life without the many barriers they faced."
Rabbi PJ Schwartz shares the many lessons his mother has imparted upon him and how they have impacted his character. "My mom never has just been a mom," he says. "She has been someone who I have looked up to, someone who has been proud of me for my successes and failures, and someone who never has given up on me." That's what so many mothers strive for!
Rabbi Bradley Solmsen talks about how his mother's extraordinary act of selflessness – donating a kidney to a stranger – influenced his worldviews and his own commitment to tikkun olam (repair of our broken world). He pledges: "I will donate blood more regularly. I will write, vote, and advocate to prevent gun violence. I will build on the work of the NAACP to respond to racial injustice in our communities."
Sean Carlin writes about the decision that his Jewish mother and Irish-Catholic father made to send him to Jewish summer camp as a child. "I cite my parents' decision to raise a Jewish family as my gift of a lifetime because of the astronomical impact it has had on my life thus far," writes Carlin, who went on to work for URJ Camp Harlam.
Deborah Rood Goldman tells the story of restaurateur Peter Gethers, author of My Mother's Kitchen. "He regales readers with the history of Ratner's and its famous customers, but that is only one facet of his story. My Mother's Kitchen is Gethers' clear-eyed assessment of his mom, Judy" – and a gift to her for all she has given to him.
Allyson Zacharoff shares the top four things she's learned from her background and her mother's Catholic faith that have strengthened her Judaism: "Through this lens," she explains, "I learned about love and about respect for all people, regardless of their beliefs."
 Don't forget to check out this Prayer for the Shabbat before Mother's Day, too.