Image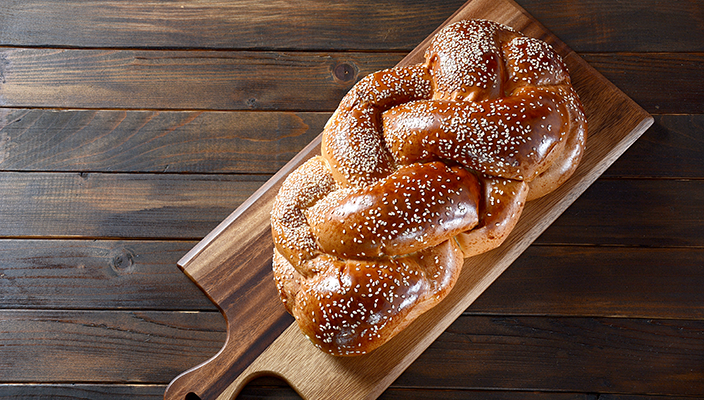 At age 12, intrigued by the idea of baking challah, I chose the simplest recipe I could find in our temple's cookbook; my venture into yeast-based baking was a lot more fun than any science project at school! These days, I remain a challah-baking enthusiast, but now I rely on an important challah hack, thanks to ReformJudaism.org's food editor, Tina Wasserman, and my sister, Jan.
Expert Challah Hacks
Let the dough rise in the refrigerator overnight, inside a plastic bag sprayed lightly inside with oil), then shape and bake it the next day. In the morning, simply take the dough out of the fridge and let it sit at room temperature for 30 minutes before shaping – or you can shape the dough right out of the refrigerator, place it on baking sheets and into a cold oven; then turn the oven on to 375°F. As the oven heats, the dough rises and goes into baking beautifully.
Another challah hack for fuss-free future Shabbats: Once the chilled dough is braided into small loaves –but before it's baked – freeze several individual loaves. When you're ready to use them, simply place the frozen challah on a lightly greased baking sheet and leave at room temperature for four to six hours before you bake.
Challah Must-Knows
Not sure how, exactly, to braid challah? Check out Wasserman's step-by-step video, How to Braid Challah, to get started – and of course, before you break bread, be sure to say HaMotzi - Blessing Over Bread Before a Meal.
Below are a few of our best challah recipes, plus DIY videos and more. Here's to inspiring your own venture into the world of baking challah!
Traditional Challah
Fruit Challah
Specialty Challah
Want to learn more about challah? Check out the following:
And finally, don't forget a challah cover! It's traditional to place a decorative cover over the challah on your Shabbat table until you're ready to bless and eat it. This simple but meaningful challah cover craft will leave young children feeling proud and accomplished.