וָאֵרָא
I (God) Appeared [to Abraham, Isaac, and Jacob]

When Is Va-eira Read?
/ 28 Tevet 5783
/ 3 Shevat 5784
/ 25 Tevet 5785
Summary
Despite God's message that they will be redeemed from slavery, the Israelites' spirits remain crushed. God instructs Moses and Aaron to deliver the Israelites from the land of Egypt. (6:2-13)
The genealogy of Reuben, Simeon, Levi, and their descendants is recorded. (6:14-25)
Moses and Aaron perform a miracle with a snake and relate to Pharaoh God's message to let the Israelites leave Egypt. (7:8-13)
The first seven plagues occur. God hardens Pharaoh's heart, and Pharaoh rescinds each offer to let the Israelites go. (7:14-9:35)
Ten Minutes of Torah: Va-eira Commentary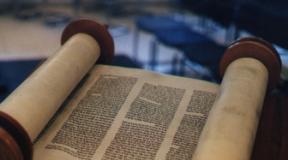 In Parshat Va-eira, we watch as God's message of freedom unfolds across Egypt and is ignored, scorned by Israelites and Egyptians alike. We watch as moral suasion, peaceful resistance, and God's word fail to bring about liberation and an end to oppression. In the wake of this failure, God visits 10 plagues on Pharaoh and the Egyptians, the first 7 of which appear in this week's portion.
Continue Reading
More Va-eira Commentaries
Learn More About Parashat Va-eira With BimBam
Parashat Va'eira: The Ancient Plagues of Egypt
Listen to Podcasts About Va-eira
Image