When Is T'rumah Read?
/ 4 Adar 5783
/ 8 Adar I 5784
/ 1 Adar 5785
Summary
God asks the Children of Israel to donate gifts (t'rumah) for the building of the Tabernacle so that God may "dwell among them." (25:1-9)
Instructions for the construction of the Ark, table, and menorah are provided. (25:10-40)
Detailed directions are given on how to build the Tabernacle. (26:1-27:19)
Ten Minutes of Torah: T'rumah Commentary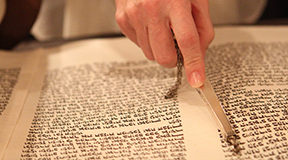 In a path-breaking1993 work entitled Sisters in the Wilderness: the Challenge of Womanist God-Talk, Delores Williams sets forth a theology of the wilderness centered in the experiences of African American women. Building from the particular and speaking with universal resonance, Williams identifies a wilderness ethic grounded in the values of: survival, relationship and resilience. For Williams, the wilderness is a place of both struggle and possibility - a place in which Hagar, a slave cast out of her home, is rescued by God so that she can ultimately mother her own nation into being.
Continue Reading
More T'rumah Commentaries
Video: Learn More About Parashat T'rumah With Bim Bam
Learn More About Parashat Tru'mah With Bim Bam
Listen to Podcasts About Parashat T'rumah
Image